Actually, the plan was to go to Milevi Skali, but that didn't work out. I hope you enjoy those pictures from Sofia to mountains next to Dolene instead. 😀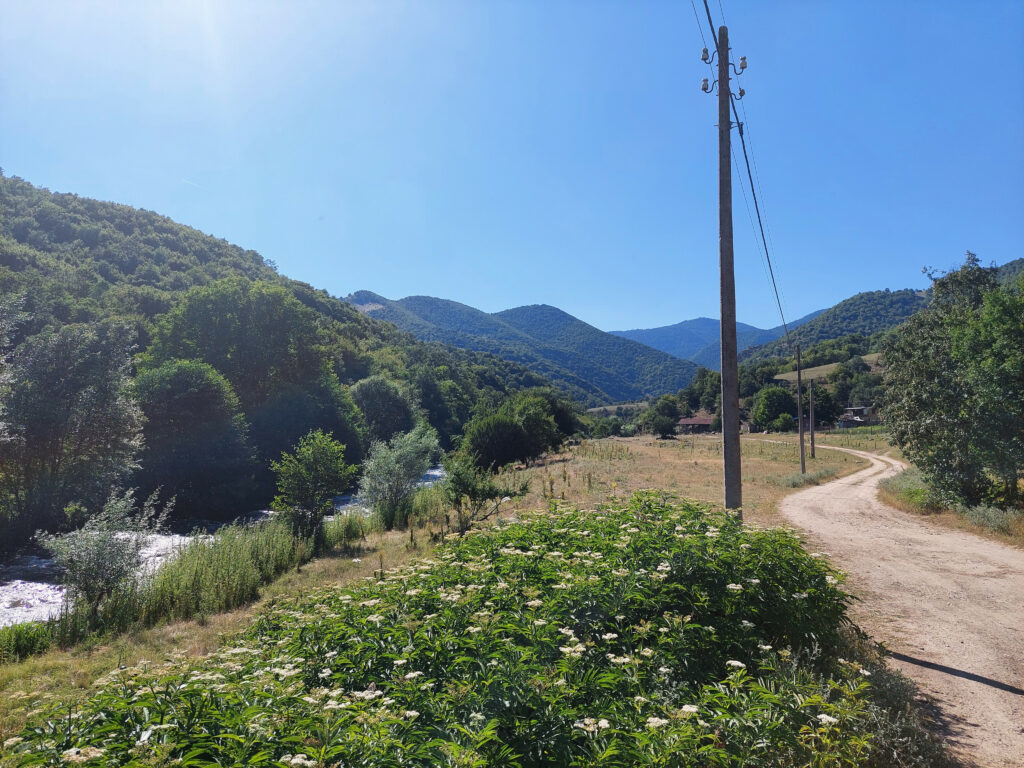 Planning is key
The plan to go to Dolene came quite spontaneously. The weather forecast was promising for the next day and I wanted to combine a longer hike with an extensive train ride. The trains in Bulgaria are often times old train cars from other countries such as Germany and hiking in the mountains is always super peaceful as there's not a lot of people living outside the few cities and villages Bulgaria has.
First I wanted to go to Velingrad which is a nice city with a lot of hotels and spas. But it's not really right in the mountains and it takes a while to get there. Luckily there's a train station basically middle in the woods: Dolene. This allowed me to take the train right to the foot of the mountain and start hiking.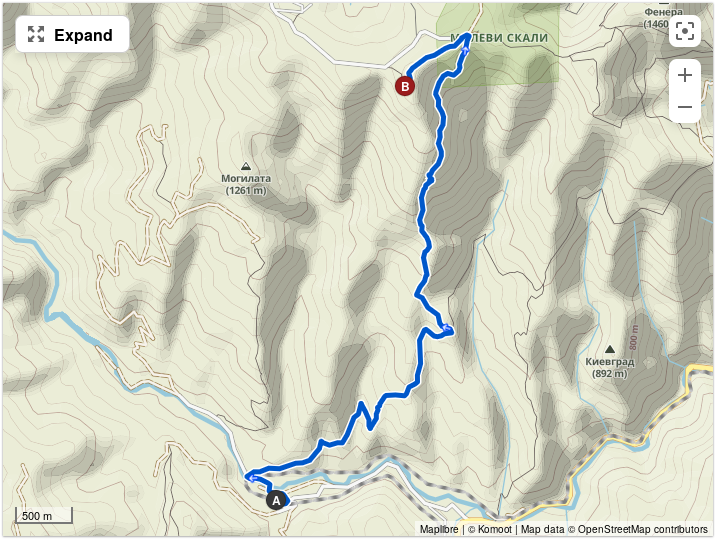 The night before I booked a first class / second class ticket from Podujane to Dolene. The booking process with БДЖ is quite easy: I chose from and to, the dates and paid by credit card.
The connection includes changing trains in Septemvri to the only narrow gauge train left in Bulgaria:

Having time from 13:27 to 18:12 is almost 5 hours. Theoretically that should be enough for that hike.
Let's start the trip
My journey begins in Podujane, one of the many train stations in Sofia.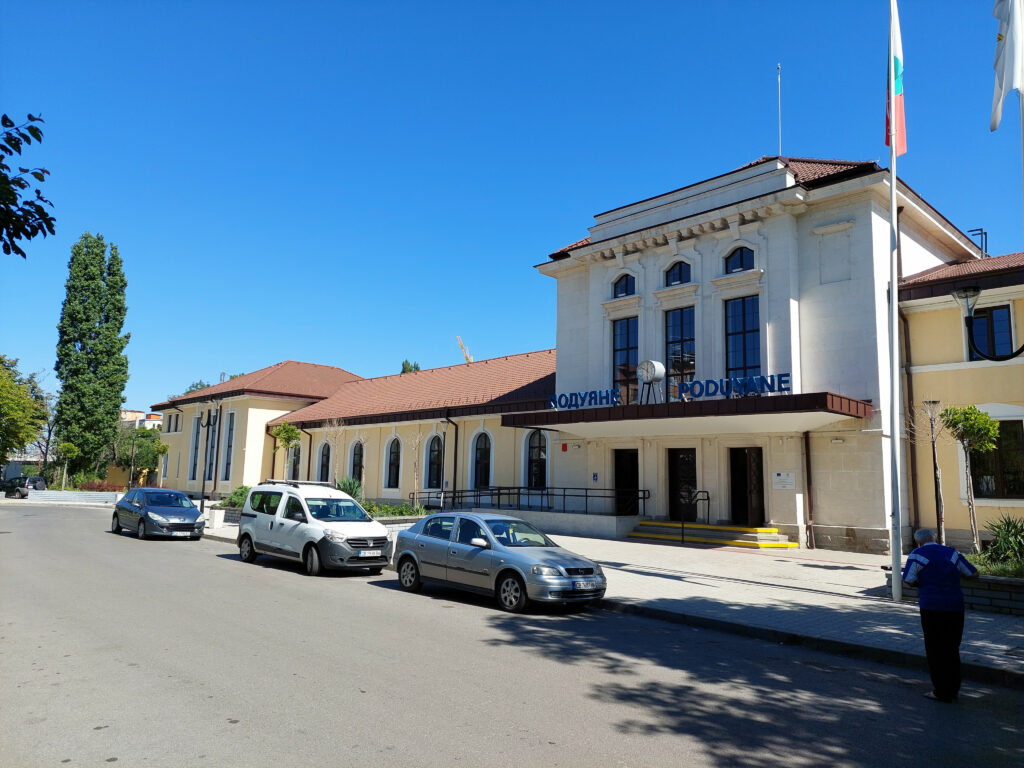 Unfortunately, due to the massive amount of construction sides within the Bulgarian railway network we accumulated a delay of around half an hour which made me almost miss the narrow gauge train. If I missed that I would have waited for a few hours or go back home instead.
Trains don't go that often in Bulgaria and connections are also not really symmetrical. Going to Dolene included a transfer of 12 minutes while going back included a transfer of almost an hour.
Arrived in Dolene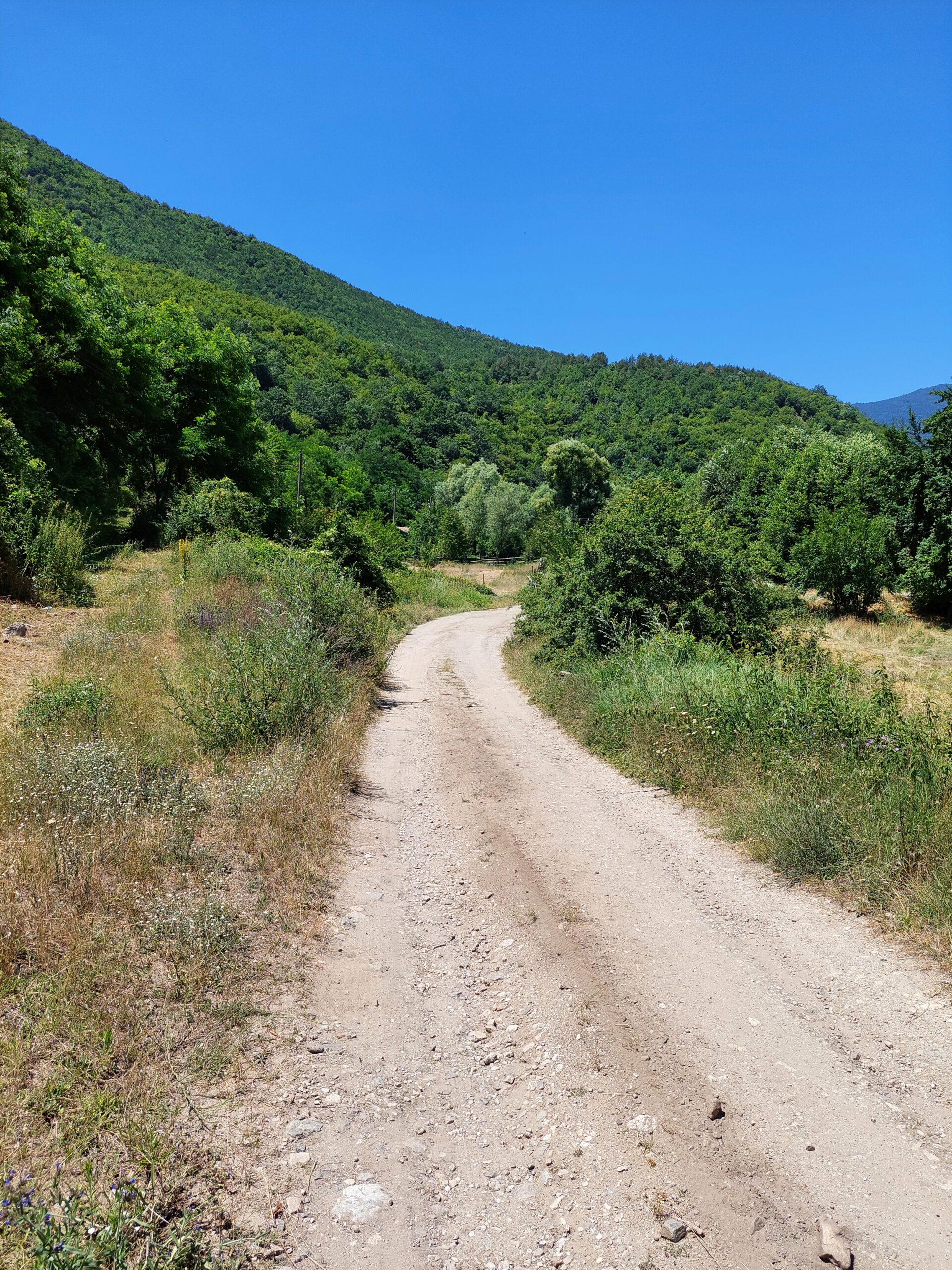 As soon as I got off the train in Dolene, I noticed that Dolene isn't just small, it's incredibly small. I only met one guy working at the train station and then I didn't see anyone else for a long time.
Luckily, the hiking path is marked by these green and yellow stripes:
It didn't take long until the incline went up as well, but I already saw my goal and had a nice view.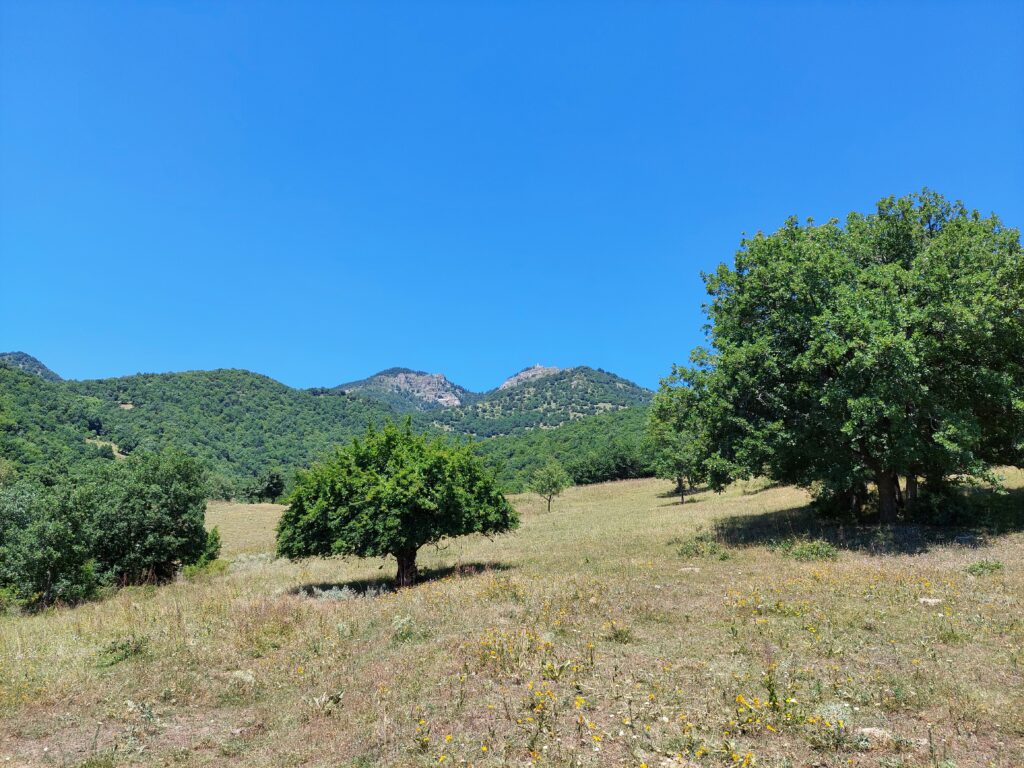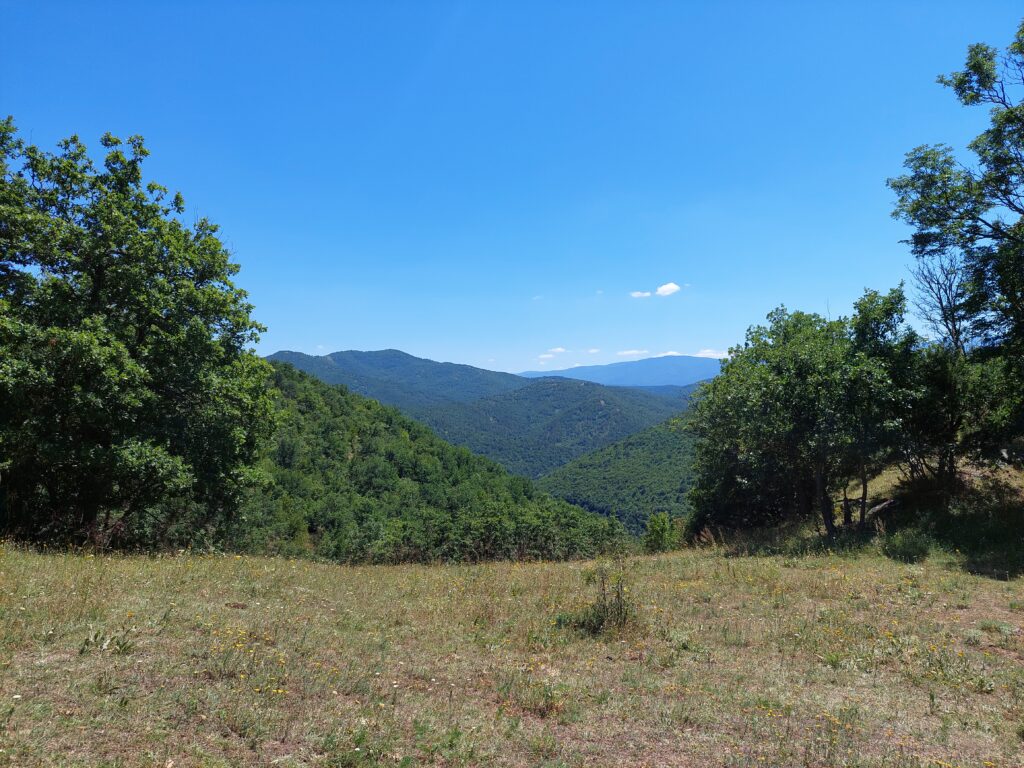 At this time the temperature kept going up as well as the sun was blasting. My phone said 29 °C. The wind was chilly, but the sun blasted.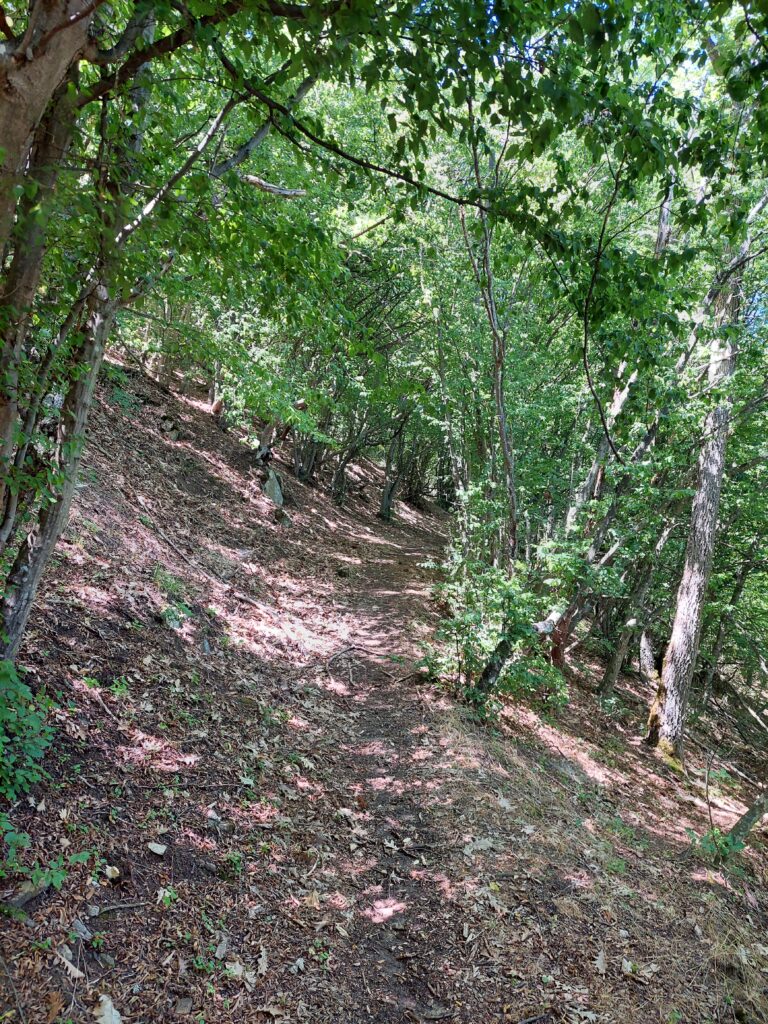 I kept climbing up and up and at some point I decided to take a break and refuel with my classy food supplies.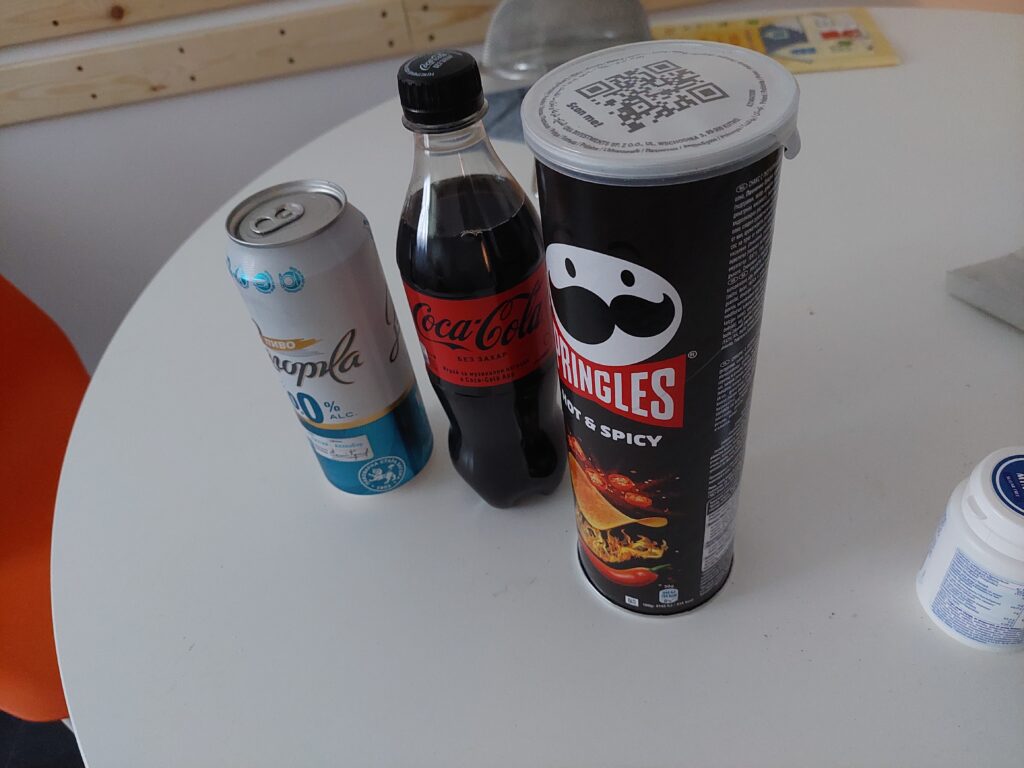 After the incline kept climbing as well, from 15% to 22%, I decided to take a break and also give my feet a fresh breeze of air. By this point I also noticed that my hiking shoes are not designed for those hot temperatures. I think I would have been better off with my running shoes instead.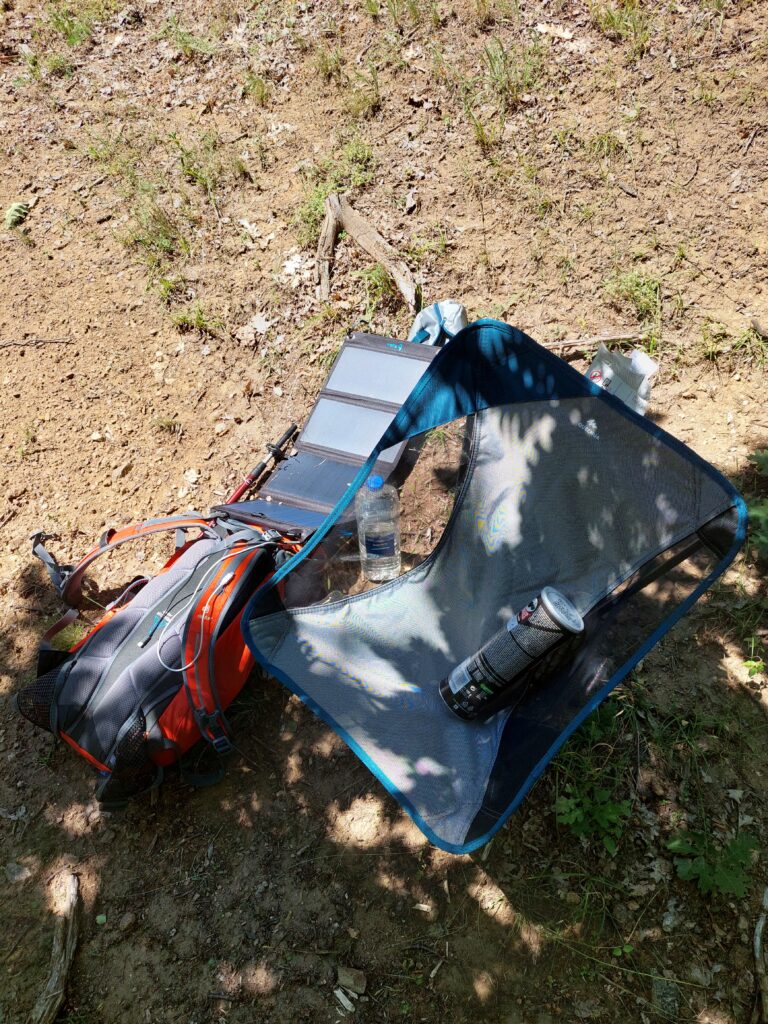 After a break of like 15 minutes I double checked the path ahead of me and the time it would take to climb up and come down again. I noticed that I was running very short of time. It would take another 1½ hours to reach my intended goal and then I would need to get down all the way. Since I already arrived with a delay of about half an hour I didn't want to risk missing the train and getting stuck in either Dolene or Septemvri.
I decided to go down a little and extend my break to almost an hour instead of reaching for the stars.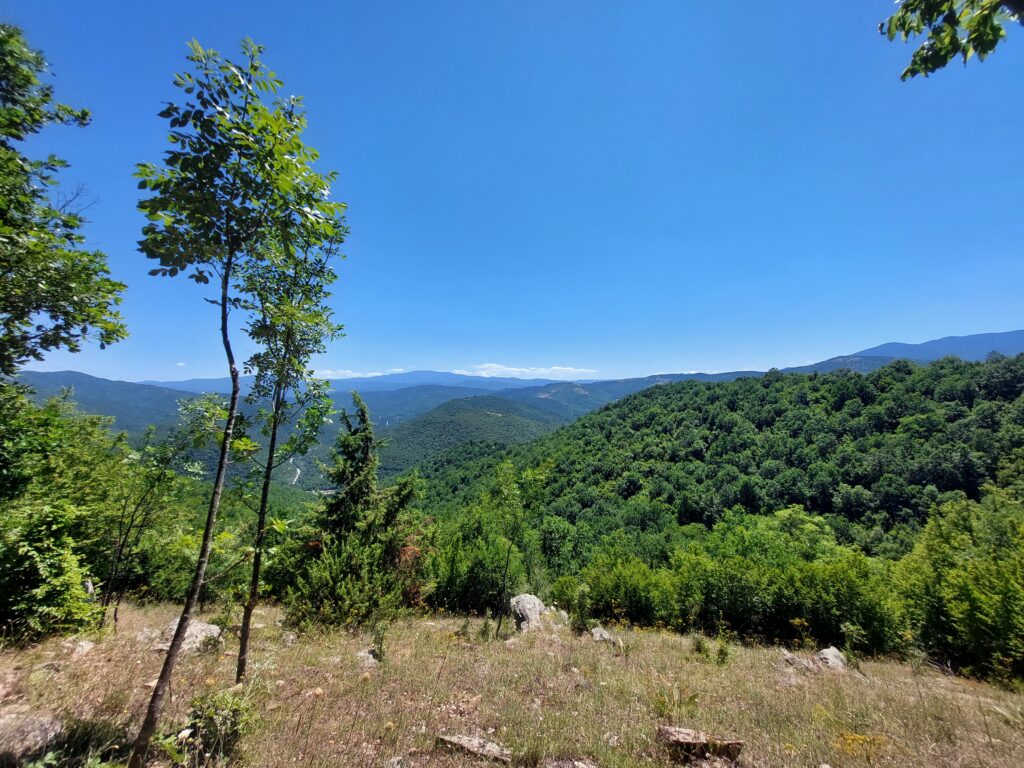 From there on after like an hour of resting and sleeping a little, I went down to the village. On my way to the village, I encountered a few cows. On my way up I already encountered a few horses but they were too shy and ran away from me. The cows were just starring at me.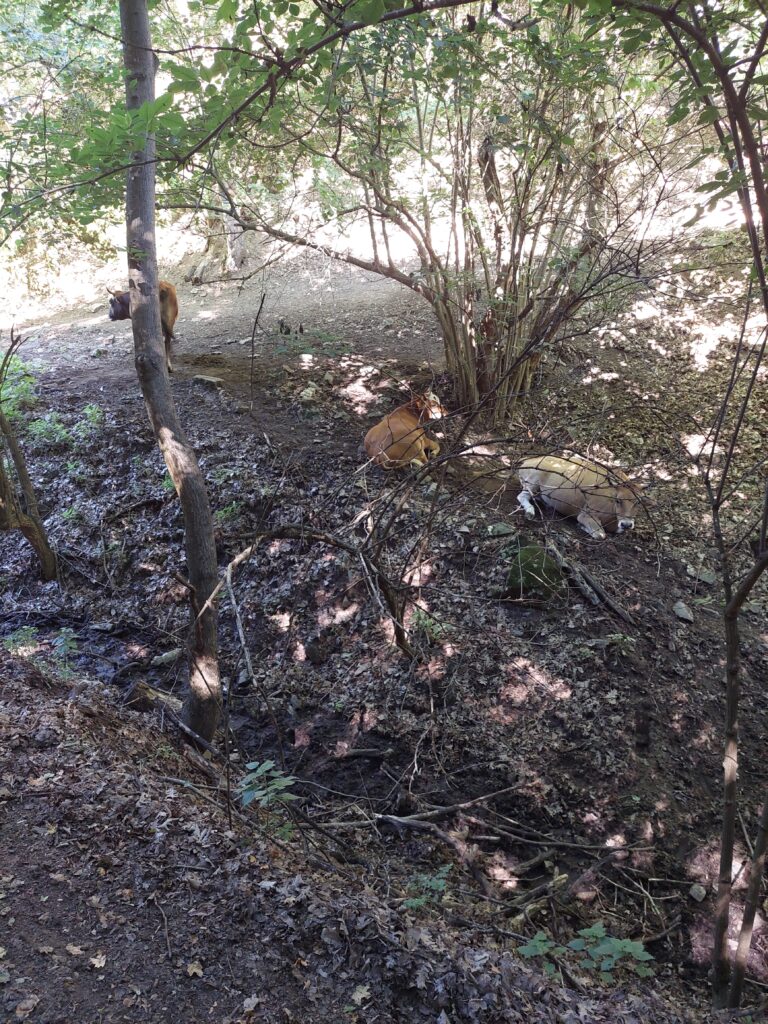 When I was back at the main street of Dolene, I had some left time to explore the area down there.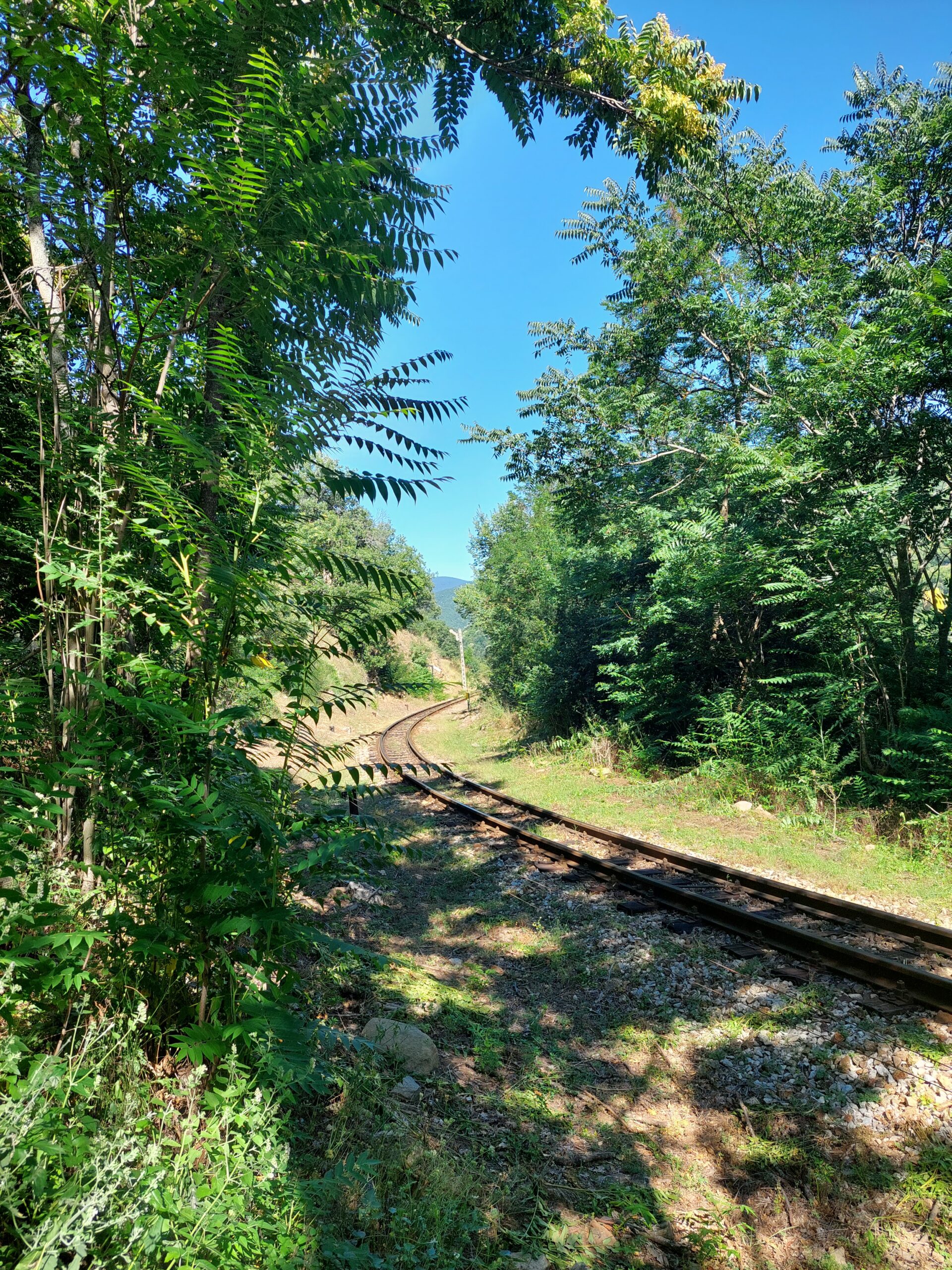 I went the main street northwards and spotted a nice place where I could take another break before I went heading back home.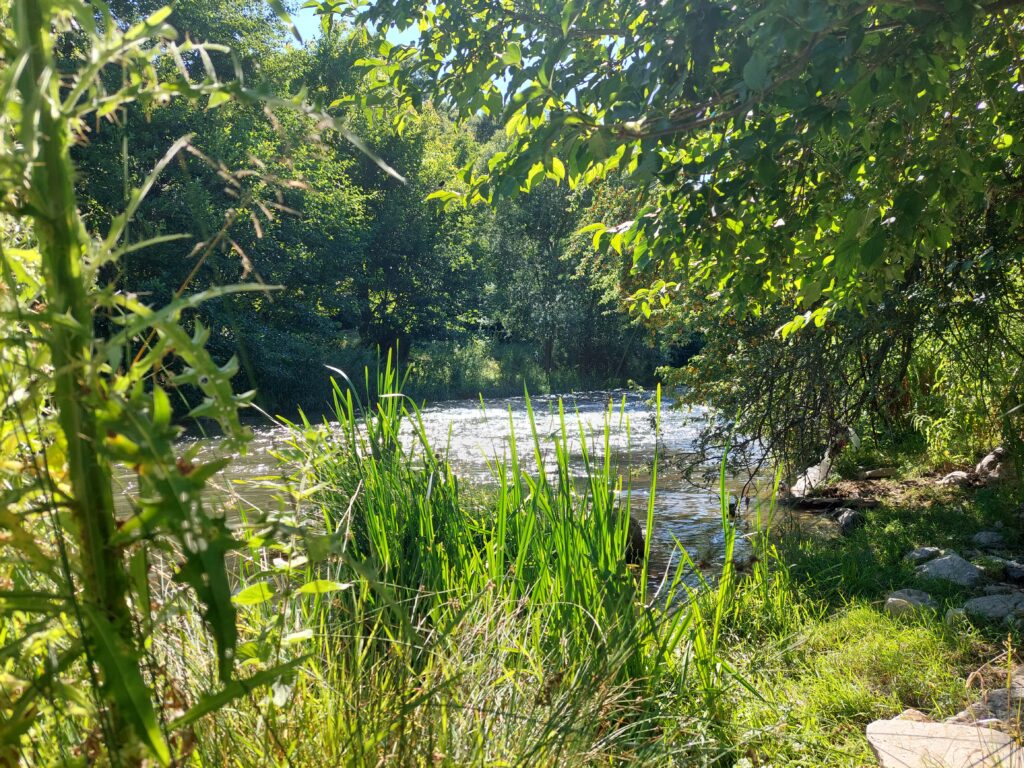 I went back the main street to the train station. But somehow I missed the path to it directly and I needed to walk next to the tracks to find it.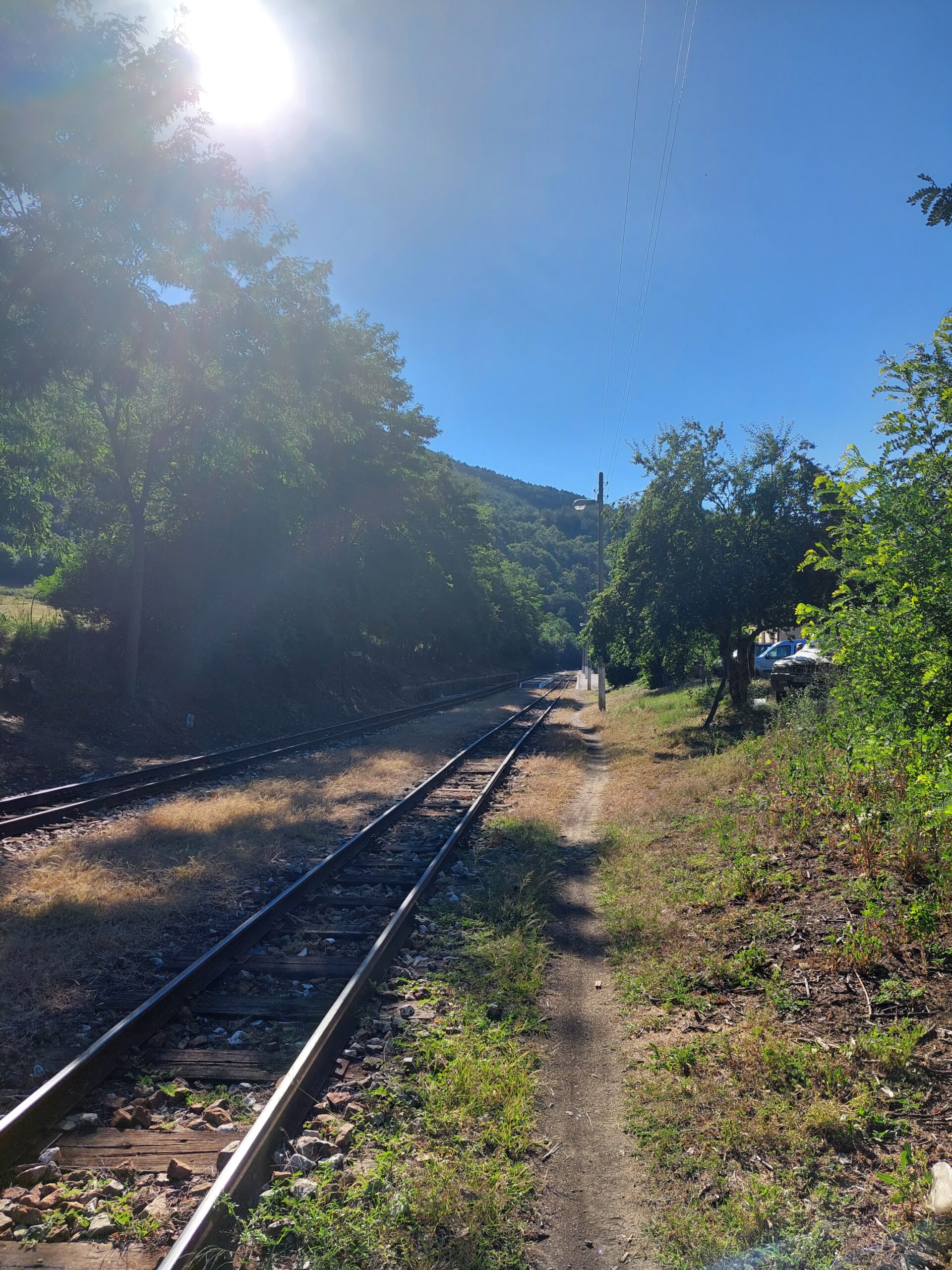 The train station in Dolene is in a top shape and quite beautiful. There are even a few people working in it.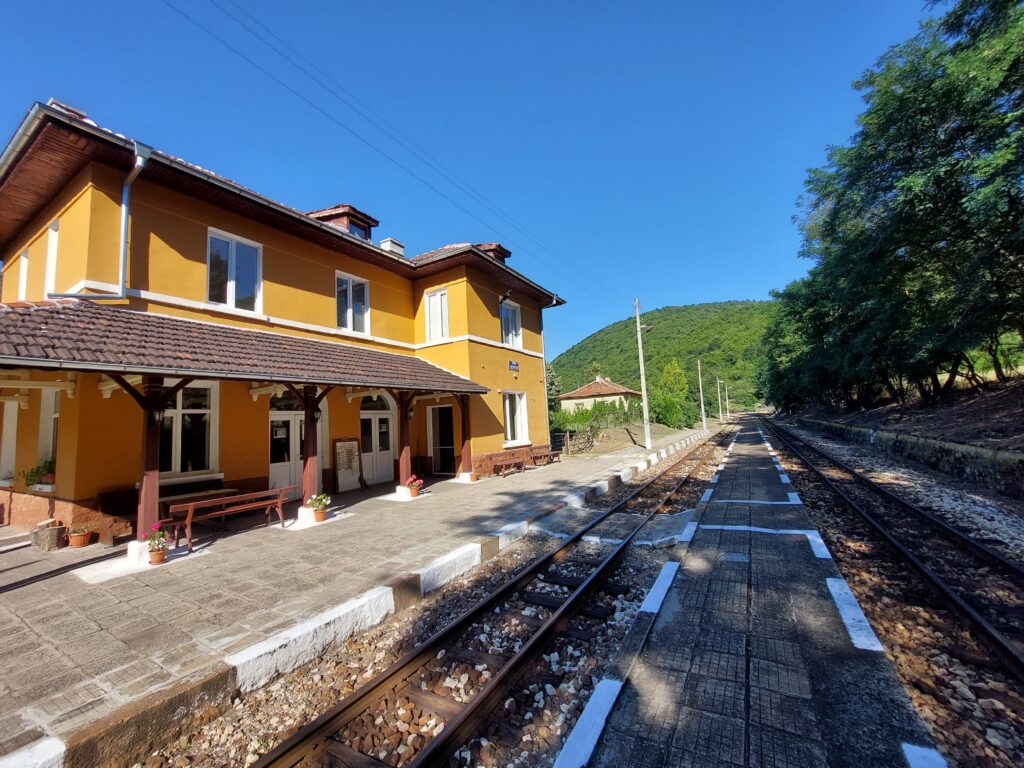 At this point I noticed that I totally underestimated how much water I'd need on my journey. I used up the 1.5l bottle of water, the can of beer and the bottle of coke.
Let's visit Septemvri
The train to Septemvri was a little delayed, but we got there on time eventually. My connecting train was delayed by 15 minutes, so I took the time to buy some water and to explore the small city.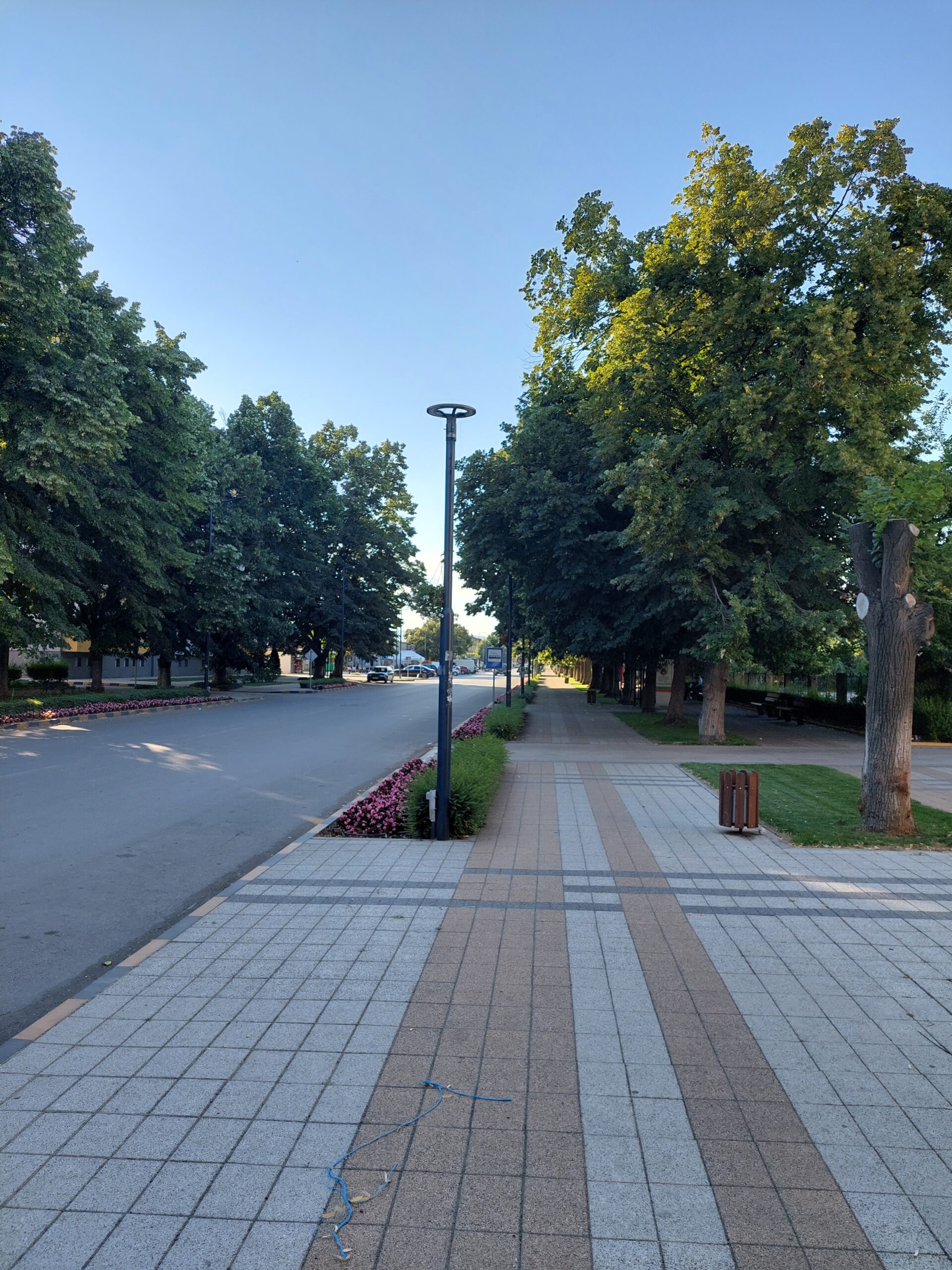 Back at the train station I was quite happy to hop on the train. It takes almost two hours to get from Septemvri to Sofia. Hopefully in the future that will speed up once the new tracks are built.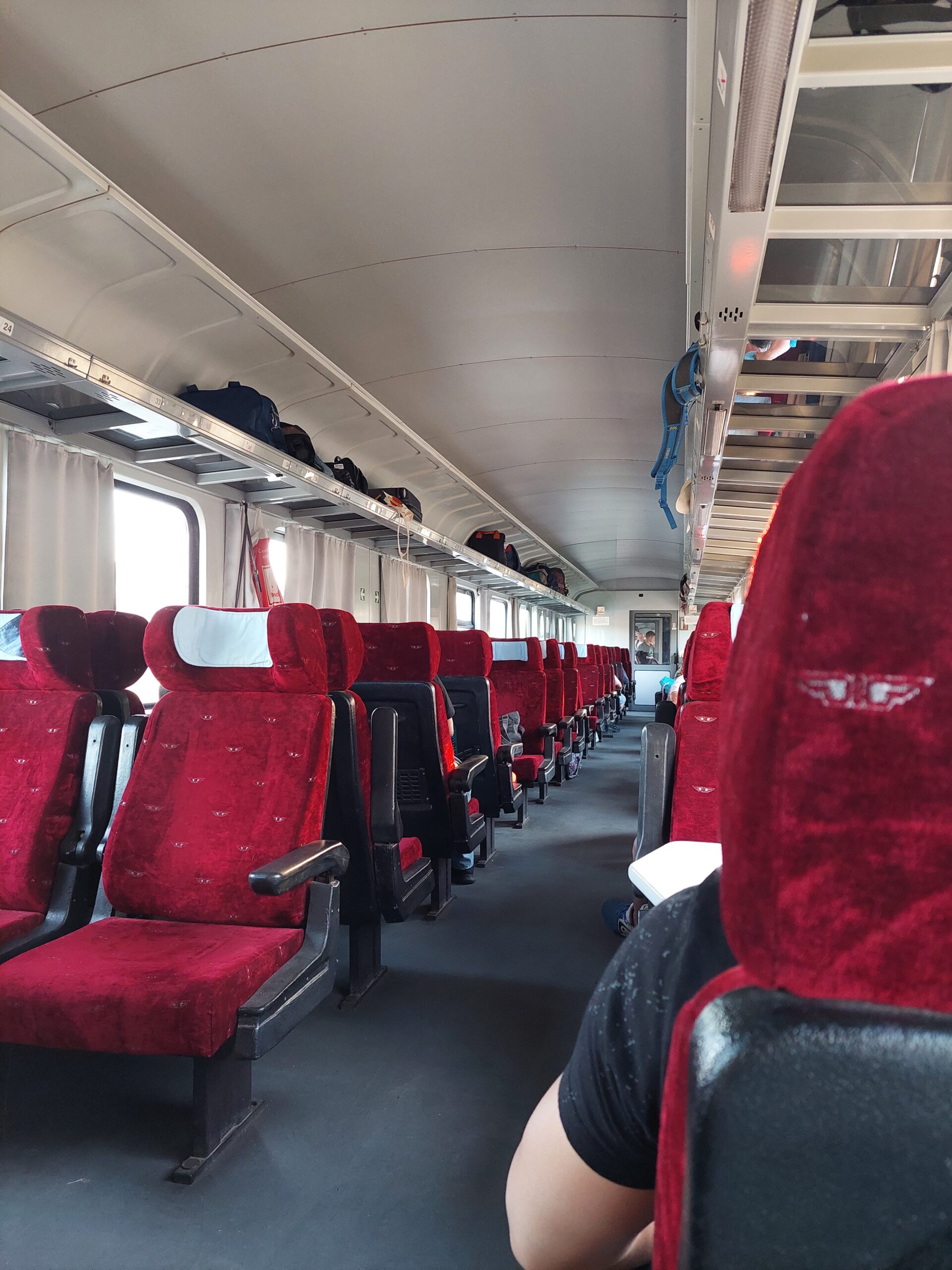 Speaking of building tracks. I already mentioned that the line is full of construction sides and it got one not so small part which only has one track right now. That means you have to wait for the train passing first if you are delayed. That added eventually another 60 minutes to our delay.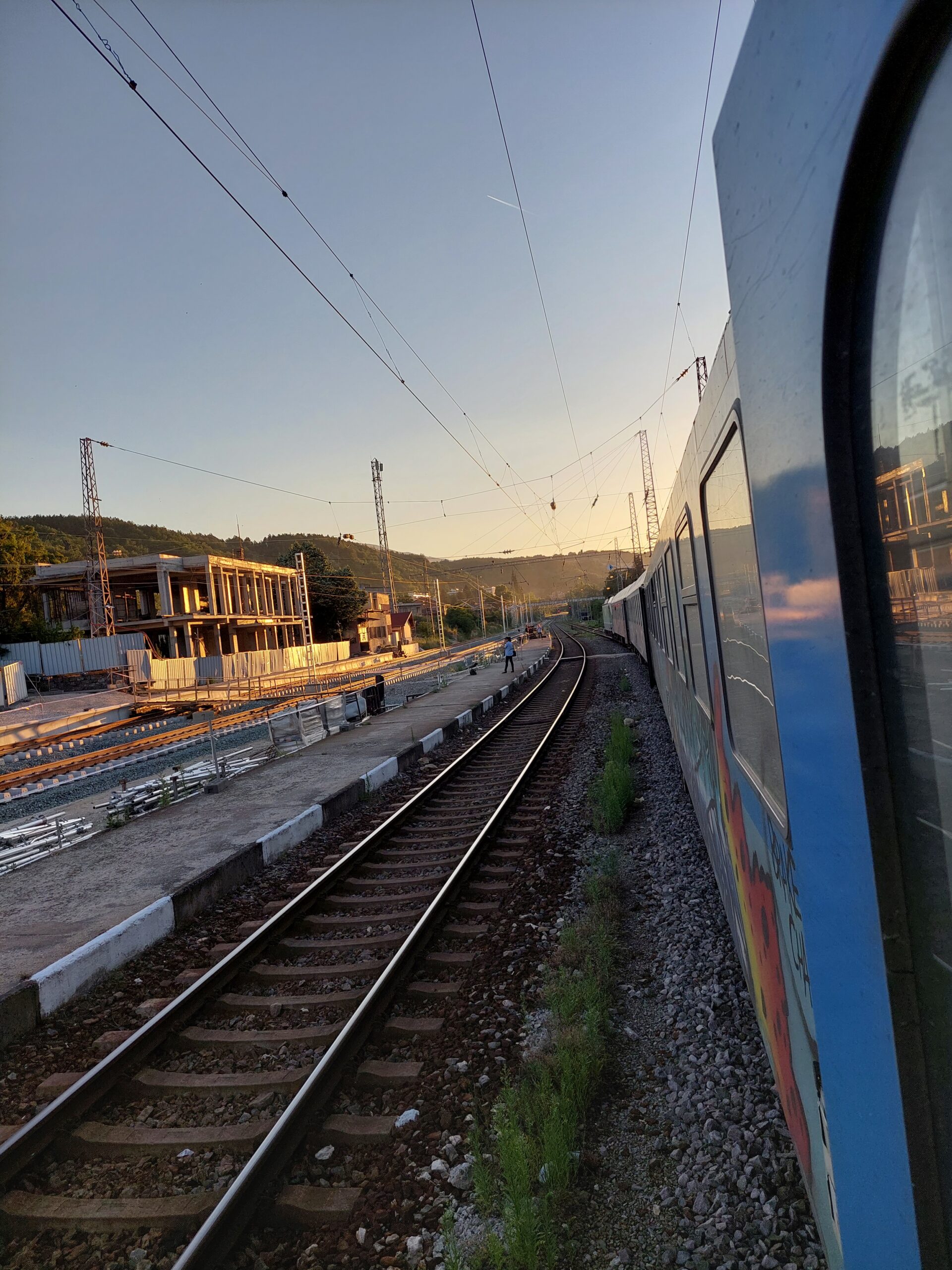 At around 23:00 I arrived back in Podujane. I was hungry and most of the restaurants in my neighborhood were already closed. The only relieve was a 24/7 kiosk where I got a salad and some sandwiches and another non-alcoholic beer.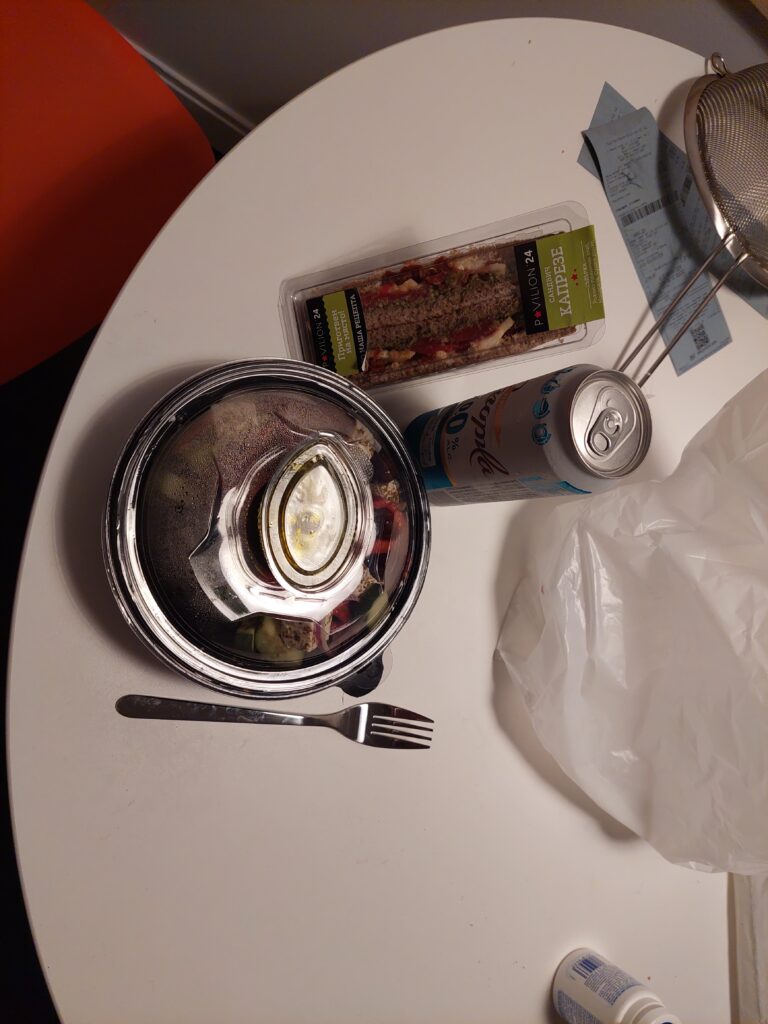 Resumé
This trip was really cool. It could have been faster if you took the car to get to Dolene due to the atrocious state of the train tracks, but if you like relaxing on a train and to enjoy the view, you should definitely support the Бдж and book a first class ticket.
Next time I will take an earlier connection and trade in my chair for more water. The sun shouldn't be underestimated and you need a lot of water to sweat in order to stay cool.
I think I'll repeat the trip in September and write another blog post about.
Until then stay safe and tuned!